Thread Number: 37854 / Tag: Brand New Vacuum Cleaners
Our newest store just opened...
[Down to Last]
Cool Vacuum Stuff on Amazon:
scroll down for more items
Post# 403522 , Reply# 1 &nbsp 1/3/2019 at 20:08 by suckolux (Yuba City, CA) &nbsp
&nbsp


Post# 403526 , Reply# 2 &nbsp 1/3/2019 at 20:57 by completenutt (West Hollywood, California) &nbsp
&nbsp
Gorgeous!


Post# 403528 , Reply# 3 &nbsp 1/3/2019 at 21:37 by Lesinutah (Utah) &nbsp
&nbsp
Heu


Post# 403536 , Reply# 4 &nbsp 1/4/2019 at 07:15 by got2bjennyg (Brunswick, Ohio, USA) &nbsp
&nbsp


Post# 403552 , Reply# 7 &nbsp 1/4/2019 at 18:49 by countryguy (Astorville, ON, Canada) &nbsp
&nbsp


Post# 403558 , Reply# 9 &nbsp 1/4/2019 at 22:53 by fan-of-fans (USA) &nbsp
&nbsp


Post# 403574 , Reply# 11 &nbsp 1/5/2019 at 09:09 by Madaboutsebo (Midlands, UK) &nbsp
&nbsp


Post# 403695 , Reply# 12 &nbsp 1/7/2019 at 00:27 by huskyvacs (Northern Indiana) &nbsp
&nbsp



It looks very modern, airy, and "hip". I will admit I would love to come there and experience your store even though I'm way too broke to even afford anything in it but a bottle of water. lol. Maybe add a couple of cafe tables in the middle or by the windows for people to sit at and discuss vacuum features and sales paperwork? I hear that's trendy now.

The vacuum shops where I live are all 20-30 years dated in decor and are converted bi-level Craftsman houses with additions tacked on. Very small cramped and cluttered. Not that there is anything at all wrong with that, I love it, as it reminds me of my own house. Here's the shop my family uses for vacuum repairs: www.yelp.com/biz_photos/g...
---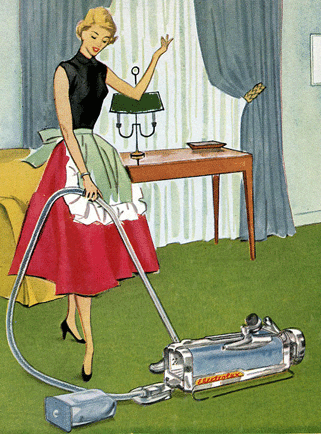 Comes to the Rescue!

Woops, Time to Check the Bag!!!
Either you need to change your vacuum bag or you forgot to LOG-IN?