Thread Number: 37651 / Tag: Brand New Vacuum Cleaners
Christmas gift advice!
[Down to Last]
Cool Vacuum Stuff on Amazon:
scroll down for more items
Post# 401426 &nbsp 11/25/2018 at 23:28 by fairfaxclass (Tillamook, Oregon) &nbsp
&nbsp



My second post!

My sister and her husband have four dogs, almost only hard floors, and no vacuum! For Christmas, I am going to fix that. The budget is a bit tight right now, but saw a couple of promising and inexpensive options:

Sanitaire SC3683B Commercial Canister Vacuum (Basically a Mighty Mite with some better attachments)- $103.83

or

Hoover Commercial CH32008 Hush Tone Canister Vacuum, 9 L - $133.73 (I will have to add an upholstery tool)

What thoughts or advice do you have? any alternative suggestions that are similarly priced?

Thanks!
Post# 401432 , Reply# 1 &nbsp 11/26/2018 at 06:56 by eurekaprince (Montreal, Canada) &nbsp
&nbsp



The Sanitaire is a great lightweight choice for the money - that long 7 foot hose is a great feature!

My biggest problem with many of these Mighty Mites is the powerful exhaust that blows out the back of the cleaner. It can kick up a lot of dust from the surface of bare floors. BUT - you can add an optional Hepa exhaust filter to the model you are looking at and this should diffuse the exhaust air. If you can afford it, definitely add on this Hepa filter to the vac.
Post# 401478 , Reply# 3 &nbsp 11/26/2018 at 20:34 by fairfaxclass (Tillamook, Oregon) &nbsp
&nbsp



eurekaprince:

I certainly plan to get the hepa filter and hepa bags if I get it.

luxkid1980:

That is a great option! I'm almost concerned considering how cheap it is! I am very open to getting a nice used machine, but finding one can sometime be tricky. If you know of any models that are usually pretty cheap, feel free to share!

Post# 401484 , Reply# 6 &nbsp 11/26/2018 at 21:35 by fairfaxclass (Tillamook, Oregon) &nbsp
&nbsp


Post# 401500 , Reply# 8 &nbsp 11/26/2018 at 22:44 by vacuumdevil (Vacuum Hell ) &nbsp
&nbsp


Post# 401508 , Reply# 9 &nbsp 11/27/2018 at 06:39 by eurekaprince (Montreal, Canada) &nbsp
&nbsp


Post# 401661 , Reply# 15 &nbsp 11/29/2018 at 17:13 by myles_v (Fredericksburg, VA) &nbsp
&nbsp



The Zing isn't bad at all for the money! I'd replace all of the tools, right down to the extension wand, but other than that it isn't bad! Simplicity style Z bags fit in the Bissell Zing, that's an easy way to improve filtration. The Mighty Mite or PortaPower would be good too, but the Zing would be the cheapest option while still actually being decent!
---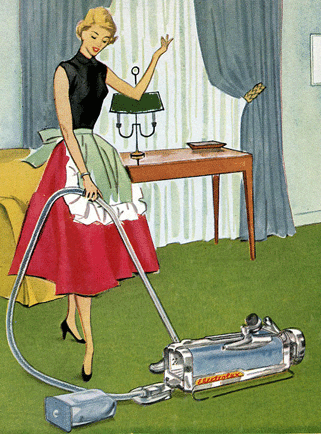 Comes to the Rescue!

Woops, Time to Check the Bag!!!
Either you need to change your vacuum bag or you forgot to LOG-IN?