Thread Number: 37757 / Tag: Brand New Vacuum Cleaners
Central vac wet/dry
[Down to Last]
Cool Vacuum Stuff on Amazon:
scroll down for more items
Post# 402573 , Reply# 1 &nbsp 12/14/2018 at 15:19 by gsheen (Cape Town South Africa) &nbsp
&nbsp



MMM I have to wonder about how the vacuum pipes in the walls will begin to stink after a while,
One other thing They show Boats and cars and furniture been cleaned but I doubt the upholstery tool is from this unit, It looks heavily commercial Like the type we use in the industry, It looks like they just lifted those images from actual professional carpet cleaning guys, The stair tool too, It doesn't match the rest of the machine especially the small width plastic carpet wand.

It looks like a good idea though
Post# 402576 , Reply# 3 &nbsp 12/14/2018 at 16:14 by gsheen (Cape Town South Africa) &nbsp
&nbsp



Have a look at the second video, all the carpet washing attachments are plastic which goes towards a domestic unit ( nothing wrong with it )
Now go and look at the first video, Look when they clean the boat , car , stair case Those are heavy duty professional hand tools used by trade, They cost sevral Hundred dollars and wont come standard with a unit like this, Their is no point in supplying that type of tool with a unit like this.
Like I said above They used sample vids of cars boats and couches been cleaned.The carpet cleaning is their attachment for sure

One like in the pic below something domestic machines dont come with, even lower end professional have plastic hand tools , these are used on truckmounts
Post# 402577 , Reply# 4 &nbsp 12/14/2018 at 16:19 by gsheen (Cape Town South Africa) &nbsp
&nbsp



aaah I see you changed the Video in the first one, to the same as the second one.

Here is the first one you posted showing what I was talking about CLICK HERE TO GO TO gsheen's LINK
Post# 402581 , Reply# 6 &nbsp 12/14/2018 at 16:44 by gsheen (Cape Town South Africa) &nbsp
&nbsp



I was wondering about someting else too. We own a carpet cleaning business and run truckmounts as well as portables. One of the biggest headaches with a truckmount been used with lots of hose is keeping the heat at the right temp due to the long hoses.
heat drop can be a real problem when you go over 100 m away from the source and as such you heat the water up far hotter than you need so when it gets to the wand its the right heat but this caused wear on the hoses and joints, I have had a hose fitting rupture and the force was so hard it took out out truck window, The professional units we use are prown to leaks after some time ( yes this unit shouldnt see allot of use ) but it becomes a nightmare when the leak is in the wall
Post# 402584 , Reply# 8 &nbsp 12/14/2018 at 16:53 by panasonicvac (Northern Utah) &nbsp
&nbsp



Cyclovac also makes wet/dry systems but they're only for commercial use. I do agree with Greg that it's alot of installation to put in for a wet/dry system. However though, it's also optional to not put in the water inlets. You could still use the water filtration and suck up liquid spills but you just won't be able to mop or steam clean your carpets. Only other downfall is Hide-A-Hoses and picking up dryer lint with a Wally Vac are not recommended for these systems.
Post# 402585 , Reply# 9 &nbsp 12/14/2018 at 16:55 by compactc9guy (Bathurst ) &nbsp
&nbsp


Post# 402668 , Reply# 11 &nbsp 12/16/2018 at 03:47 by gregvacs28 (Minnesota) &nbsp
&nbsp




Have read a lot of horror stories on those.

Can't beat a Rotovac for carpet cleaning.

For those with a typical CV system, It would seem like the best wet clean system accessory would be to have a wet tank interseptor like the Vacumaid

Plus have a Rotovac type wand that has a built-in heater, detergent dispenser, standard plug, and could easily connect to a sink for water.

You'd get the suction and venting capacity of the CV without the plumbing issues and mold of whatever this unworkable system is they're trying to sell. CLICK HERE TO GO TO gregvacs28's LINK
Post# 402735 , Reply# 13 &nbsp 12/17/2018 at 02:14 by gregvacs28 (Minnesota) &nbsp
&nbsp



True Alex, it's just that if you already have a CV system, you can easily add the interceptor to clean up wet debri.
If you go with the wet-dry system, you have to replumb the whole house. That's expensive and messy (but fun, I concede, for me) for the average person. The vacuum lines are different for the drain vacs, compared to a typical dry CV system. There are required loops at each inlet to keep water from literally leaking out of inlets and dribbling down the walls. Plus, you also have the fresh water delivery piping system along side that. It's an impractical mess for the average person.

And people have been having problems with the drain vacs because everything you pick up, whether wet or dry, goes into your drain system. That's caused problems, especially if one is vacuuming pet hair type debri. And if you're on a septic system, that's another problem.

I was just enjoying one of your CV vacuum vids today.
Post# 402738 , Reply# 14 &nbsp 12/17/2018 at 02:41 by gregvacs28 (Minnesota) &nbsp
&nbsp



If one already has a dry CV, and/or doesn't want the burdon of installing the expensive Auqu air system....

If nothing else, one could get the tool kit and hose from Auqu-air,
get a wet tank interceptor,
and connect the fresh water connection to a sink with a dishwasher type quick-disconnect aerator connection.

You'd get the wet cleaning benefits.

Yes, you'd empty the tank, but it's liquid and won't have fine dust floating about. Plus with a faucet connection, one can be sure to draw hot water to the spout before connecting the hose.

As for misting down dry dirt and flushing it down the drain as the Auqu-aire does..... as long as one's standard CV is vented and bagged, it's not a big deal. Changing a CV bag takes like a minute and all the fines are vented outside.
You have to open up the Auquaire once a month to change the net thing. I can only imagine how manky and moldy it gets in there. I'd rather change a CV paper bag every couple of months, than deal with the net thing every month. Plus the clogged plumbing lines, extra pumping costs for the septic tank, and who knows what other hassles.
Post# 402758 , Reply# 15 &nbsp 12/17/2018 at 14:32 by panasonicvac (Northern Utah) &nbsp
&nbsp
Thanks!



There should be a couple more of those videos coming soon.

Yes wet/dry systems are definitely not cheap to get. But like I said in one of my earlier comments, it's not really required to put in water inlets. It it was me, I would not put one of those in because it would just take alot of time to operate. At work, we're not one of those wet/dry dealers but from what I've heard, the only times that these would go wrong is someone wouild either install these in wrong or are not operating them correctly. I've heard that rarely happens in my area, at least for Aqua-Air or Cyclovac. But I've heard Drainvac has problems with clogging up the drain pipe, mostly because they don't use those debris screen bags like Aqua-Air or Cyclovac.
---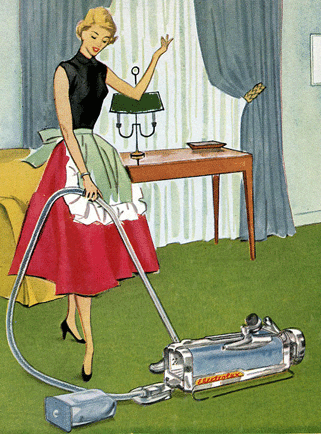 Comes to the Rescue!

Woops, Time to Check the Bag!!!
Either you need to change your vacuum bag or you forgot to LOG-IN?