Thread Number: 37735 / Tag: Recent Vacuum Cleaners from past 20 years
Rebrand
[Down to Last]
Cool Vacuum Stuff on Amazon:
scroll down for more items
Post# 402392 &nbsp 12/11/2018 at 14:40 by Lesinutah (Utah) &nbsp
&nbsp



Hey
I have an shark handvac and I noticed the riccar spruce looks similar. Does anybody know if this is a rebrand.
Les


Post# 402399 , Reply# 1 &nbsp 12/11/2018 at 16:40 by HonestJoe68 (Mansfield, Ohio) &nbsp
&nbsp

Hi Les,

Tacony is the owner of the Fuller Brush Power Maid, The Riccar Squire and the Simplicity Spruce. All are similar vacuums with the same body in different colors and the Riccar and Simplicity have Two Speeds and LED Headlights where the Fuller Brush is one speed.

Shark looks very similar but as far as I can find online, Shark has never been a part of the Tacony line, and have always been made by a separate company. I thought it looked similar too, but I think itís just a matter of one company ďborrowedĒ the look and style of the vacuum, Iím not sure who made which first. Lol

I own all three of the Fuller Brush, Riccar and Simplicity.. so if anybody has specific questions, let me know and Iíll be glad to answer. Otherwise I hope that answers your question that Shark simply looks similar and is not an identical vacuum from the other three.. to my knowledge.

Thanks, Patrick


Post# 402417 , Reply# 2 &nbsp 12/11/2018 at 20:03 by Lesinutah (Utah) &nbsp
&nbsp
Hey



Thanks.
I didn't think so either. I just barely started seeing the riccar squire on eBay. Riccar is very strict you either buy from them an authorized dealer or it's not for sale. I seen the Fuller brush at the vacuum shop down here. They also had a riccar Supra lite portable mini cannister similar to orecks.
I asked if they had riccar or simplicity squire or spruce. They had to order it in.
I was interested in it instead of Fuller brush wasn't as nice as it's luxury class brothers.
If it's made by who ever owns simplicity I think tacony. If it's made by them you know it's good.
I used the shark and it's a POS. Plain and simple. The new purple cordless handvac is by far the best corded or battery powered hand vac period. I do have a newer dirt devil that has a dust bin and it's really nice. But im not going out on a limb that the Fuller is just as good as the purple cordless shark.
Thanks again
Les
Post# 402453 , Reply# 4 &nbsp 12/12/2018 at 14:11 by Lesinutah (Utah) &nbsp
&nbsp
Hey


Post# 402489 , Reply# 6 &nbsp 12/13/2018 at 01:05 by vacuumdevil (Vacuum Hell ) &nbsp
&nbsp


Post# 402538 , Reply# 7 &nbsp 12/13/2018 at 21:30 by Lesinutah (Utah) &nbsp
&nbsp
Hey


Post# 402561 , Reply# 8 &nbsp 12/14/2018 at 11:03 by rivstg1 (colorado springs) &nbsp
&nbsp
lesinutah,


Post# 402566 , Reply# 9 &nbsp 12/14/2018 at 11:46 by Lesinutah (Utah) &nbsp
&nbsp
Hey


Post# 402732 , Reply# 14 &nbsp 12/17/2018 at 01:12 by panasonicvac (Northern Utah) &nbsp
&nbsp


---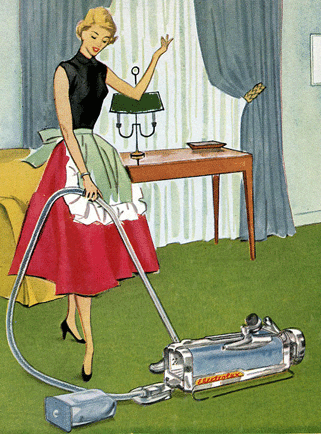 Comes to the Rescue!

Woops, Time to Check the Bag!!!
Either you need to change your vacuum bag or you forgot to LOG-IN?