Thread Number: 37615 / Tag: Recent Vacuum Cleaners from past 20 years
Monstrous Vacuum Cleaners
[Down to Last]
Cool Vacuum Stuff on Amazon:
scroll down for more items
Post# 401072 &nbsp 11/18/2018 at 11:58 by broomvac (N/A) &nbsp
&nbsp



Any of you have a massive vacuum in your collection? I mean, MASSIVE, like the ones below. Several companies have produced walk-behind leaf and litter vacuums for years now, such as Billy Goat, Parker, and Elgee.

When I was a kid, I loved these things. I still do!


Post# 401073 , Reply# 1 &nbsp 11/18/2018 at 12:03 by broomvac (N/A) &nbsp
&nbsp



I forgot to share mine. I have the self-propelled version of the Craftsman in the link below. It has a frighteningly large impeller and can also mulch branches up to something like 2" in diameter!
Post# 401077 , Reply# 2 &nbsp 11/18/2018 at 12:14 by vacuumdevil (Vacuum Hell ) &nbsp
&nbsp


Post# 401089 , Reply# 4 &nbsp 11/18/2018 at 14:20 by broomvac (N/A) &nbsp
&nbsp



I hope I didn't mislead anyone. The machines in my first post are not mine. Only the one in my second post is.

@JustJunque Are you using the choke? I find that mine is nearly impossible to start without using the choke.

When you slide the speed control lever to the "STOP" position, the throttle plate closes completely, essentially starving the engine of fuel. This means there is no fuel/air mixture remaining in the intake manifold for the engine's next start and makes the engine virtually impossible to start with the choke. Lawn mowers kill the engine by eliminating the spark, so they don't need the choke for a hot start.

With the choke, my machine always starts on the first pull. You do have to give it a pretty hard tug, though. The massive impeller has a very high moment of inertia.


Post# 401119 , Reply# 6 &nbsp 11/18/2018 at 21:04 by huskyvacs (Northern Indiana) &nbsp
&nbsp



Unfortunately janitorial equipment tends to be rare and expensive as they are run until broken then binned by the company. I'd love to have one of those huge casino vacuums.

Could get one of these, it even comes with a hose attachment!
Post# 401131 , Reply# 7 &nbsp 11/19/2018 at 00:29 by huskyvacs (Northern Indiana) &nbsp
&nbsp
JustJunque



Also for your problem, JustJunque, the most common things to happen when a mower won't start is: 1)the starter cord has gotten too slack, 2)the spark plug is fouled or worn out, 3) the carburetor is gummed up, or 4)there is too much grass clump buildup on the underside of the deck.

I have a carb-less Troy Built mower I bought brand new in 2008, it's never given me any troubles at all and I have done no service to it other than 1 oil change and right now the wheels are worn out. I also do not thread the starter rope through the handle, I leave it at the base of the engine. It keeps it from getting in the way and preventing it from being damaged or frayed.
Post# 401698 , Reply# 8 &nbsp 11/30/2018 at 12:28 by panasonicvac (Northern Utah) &nbsp
&nbsp
I have one of those Craftsmans



Had it new since 2008. Used it alot for a long time but this year it hasn't got touched since we are redoing my parent's yards.
---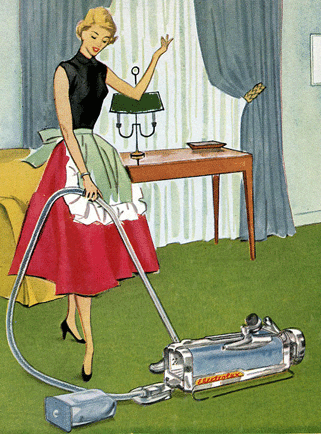 Comes to the Rescue!

Woops, Time to Check the Bag!!!
Either you need to change your vacuum bag or you forgot to LOG-IN?