Thread Number: 37599 / Tag: Brand New Vacuum Cleaners
My New Upright Bagged Vacuum w/ Pics
[Down to Last]
Cool Vacuum Stuff on Amazon:
scroll down for more items
Post# 400918 &nbsp 11/15/2018 at 20:20 by mark40511 (Lexington, KY) &nbsp
&nbsp

Checkrate/Likes

&nbsp

4

&nbsp &nbsp




I don't post too often on here, but I wanted to show off my new vacuum which I've used for a week now and LOVE IT. Now, it's not a Miele or a Riccar or Simplicity Or Kirby....but it's still really nice. I went looking online for something upright and bagged...but more than that, I wanted something that was HEPA bagged and the bags used a seal that would prevent leaking into the bag chamber. Also, I wanted bags and filters to not be HORRIBLY expensive. (6 pack genuine HEPA bags are less than 12 dollars) and HEPA filter about the same price. Additionally, I wanted something repairable. Ultimately, I found this Cirrus CR-79 to use as my daily driver. I've used it for a week and I'm still getting used to it after using my Shark bagless as my daily driver for the past 4 years.

A few things - I'm still getting used to the foot pedal to release the handle for vacuuming. The shark I just pulled the handle down. The cleaning path is so much WIDER than the Shark. I also can't vacuum on area rugs unless I turn the suction way down...But what's strange to me is this feels like it doesn't have quite as much suction as the Shark did....and yet the shark could vacuum area rugs with ease......this thing wants to suck the rug up. I also got an attachment kit (not affiliated with the vacuum itself)....it has a 12-foot hose and tools...Like my Rainbow, with the 14-foot hose, you can park this vacuum in the middle of the floor and clean all kinds of crap all over the room floor to ceiling. The hose is also much lighter than the Rainbow hose (because it's not as good of quality) but it makes using the hose in high places so much easier because you're not holding up that big heavy hose.

As much as I LOVE my Rainbow, I'm probably not going to be using it as much because with this attachment kit, I can clean everything. I seriously didn't know these existed or I would have bought one a long time ago. I wouldn't like this vacuum NEARLY as well if not for the attachment kit.

As far as this being sealed......I'm sure it's not sealed like a Miele......but there is zero dust after a weeks use in the bag chamber... I feel no air coming out of anywhere other than through the HEPA... I also love the green color.


Post# 400920 , Reply# 1 &nbsp 11/15/2018 at 22:04 by myles_v (Fredericksburg, VA) &nbsp
&nbsp


Post# 400922 , Reply# 2 &nbsp 11/15/2018 at 22:21 by fan-of-fans (USA) &nbsp
&nbsp


Post# 400929 , Reply# 3 &nbsp 11/15/2018 at 22:57 by panasonicvac (Northern Utah) &nbsp
&nbsp
Myles


Post# 400951 , Reply# 4 &nbsp 11/16/2018 at 08:52 by dysonman1 (Missouri) &nbsp
&nbsp



That's a nice copy of Tacony's 7000 series uprights (which are discontinued).

Your new machine has a steel soleplate, which forms a seal with the carpet (unlike the Shark) so you get a far better clean.

I've had the opportunity to use and work on a Cirrus - the good news is they can use Tacony's type B bags and belts. Tacony's bags are thicker and filter even better.

Congrats on your new machine. It really is a great machine.
Post# 400984 , Reply# 5 &nbsp 11/17/2018 at 00:17 by mark40511 (Lexington, KY) &nbsp
&nbsp
Hepa bags



I was told style A upright bags from Tacony would fit these. So you're 100% positive it's B type bags?

One thing I forgot to mention and maybe someone can explain. There is a port on the back of this - very convenient.....you just pop it open and connect the additional hose to the port. It fits snugly in the port, but yet you're not getting the full-on suction/airflow of the vacuum because some airflow is still being directed through the vacuum hose itself. The suction is horrible at the end of the 12-foot hose when connected to the port - but it's great if you take the vac hose off and connect the 12-foot hose to that, which is what I've been doing. It also gives more reach. I just thought that was weird......but no huge deal.
Post# 401177 , Reply# 7 &nbsp 11/19/2018 at 23:42 by panasonicvac (Northern Utah) &nbsp
&nbsp


Post# 401592 , Reply# 8 &nbsp 11/28/2018 at 16:38 by Ultralux88 (Denver, Colorado) &nbsp
&nbsp


Post# 403078 , Reply# 9 &nbsp 12/25/2018 at 04:11 by mark40511 (Lexington, KY) &nbsp
&nbsp

Checkrate/Likes

&nbsp

2

&nbsp &nbsp

Merry Christmas :)



I'm about a month and a half into using this vacuum and I freaking LOVE it!!! But there is one design of this machine that boggles my mind. The port on the back designed for adding an attachment hose (which I have). When opening that port and plugging the separate extension hose in, you're not getting nearly the full suction of the vacuum - it doesn't cut off all the airflow from the main hose? Luckily, I found this flowbee vacuum hair cutting vacuum adapter that fits perfectly in the extension hose and I just pull out the quick draw wand and connect it that way - then I have full suction of the vacuum to clean everything high and low. The bag is about half full as I've used it almost daily and there isn't a speck of dust in the bag chamber. This is the FIRST bagged vacuum that I've ever had that didn't leave dust in the chamber. (of course, I've never had a high end bagged vacuum, only Kenmore canisters or a Eureka Boss.) The Eureka Boss didn't have hepa bags and the Kenmore leaked no matter what kind of bags you used.

The 1/2 full bag doesn't smell either and I notice very little loss of airflow. Underneath the bag there is a charcoal motor filter, but I sucked some activated charcoal granules in the bag so I'm thinking that's why there's no smell.

Does anyone know when I change the charcoal motor filter, I can either buy one or use the cut to fit charcoal filter, but I don't know what type of cut to fit charcoal filter material to buy...does anyone know?

Anyway - this is a very substantially built machine - I hope they continue to keep making them. From what I understand, you can buy anything for this machine (parts wise), like brush strips... that should be interesting as I've never replaced brush strips on a vacuum.
---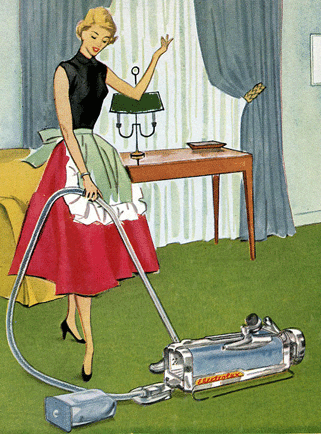 Comes to the Rescue!

Woops, Time to Check the Bag!!!
Either you need to change your vacuum bag or you forgot to LOG-IN?