I received a private message from Baginthevac regarding a Hoover Widepath series upright I posted a spec sheet for at one time in addition to other vacs in a previous thread. This thread is in regards to anything and all regarding the 15" cleaning path, non-Windtunnel, bagged or bagless Widepath, Breathe Easy, and/ or Soft Guard Series.

So for Nathaniel and anyone else interested, here is some of my knowledge regarding this series and I encourage anyone with more knowledge to supplement in addition to correcting me regarding anything!! I hope we get lots of pictures of all sorts of vacs from this series!!! There were many colors, many models and the line spanned a few years! So please enjoy and post! I love the hood style and headlights on these!

I remember shopping around 1999 in Sears and seeing vacuums of this style in the store. Originally this series started out with I believe a 7.3 Amp motor. Then later on Hoover, in competition with Dirt Devil, Eureka and other brands switched all their uprights to a 12 Amp motor, including on Elites which were 7.2 Amp motors. This series was a fan first system, with filter on front of bag door. Later this series was evolved to become Hoovers first Twin Chamber bagless vacuum cleaner: the dark green U5288-900 model.

As stated above I have seen models of this styling being called: Widepath, Breathe Easy and Soft Guard. All were 15", that's where the Widepath name came in. Some models had a plain door front and others had filter door on the bag door. The filters on the door were a 4 stage multi-layered with white and green layers similar to the Windtunnel Supreme final exhaust filter except that the Breathe Easy series was a square filter on the bag door panel. They had the red edge groomers on sides of T-shaped cleaning head and front bumpers were a soft grip material that was furniture friendly. All of the ones I've seen except for a Commercial bagged and bagless model have had a headlight. **Attached link is the Commercial series of the Softguard uprights: C1702-900.
CLICK HERE TO GO TO Durango159's LINK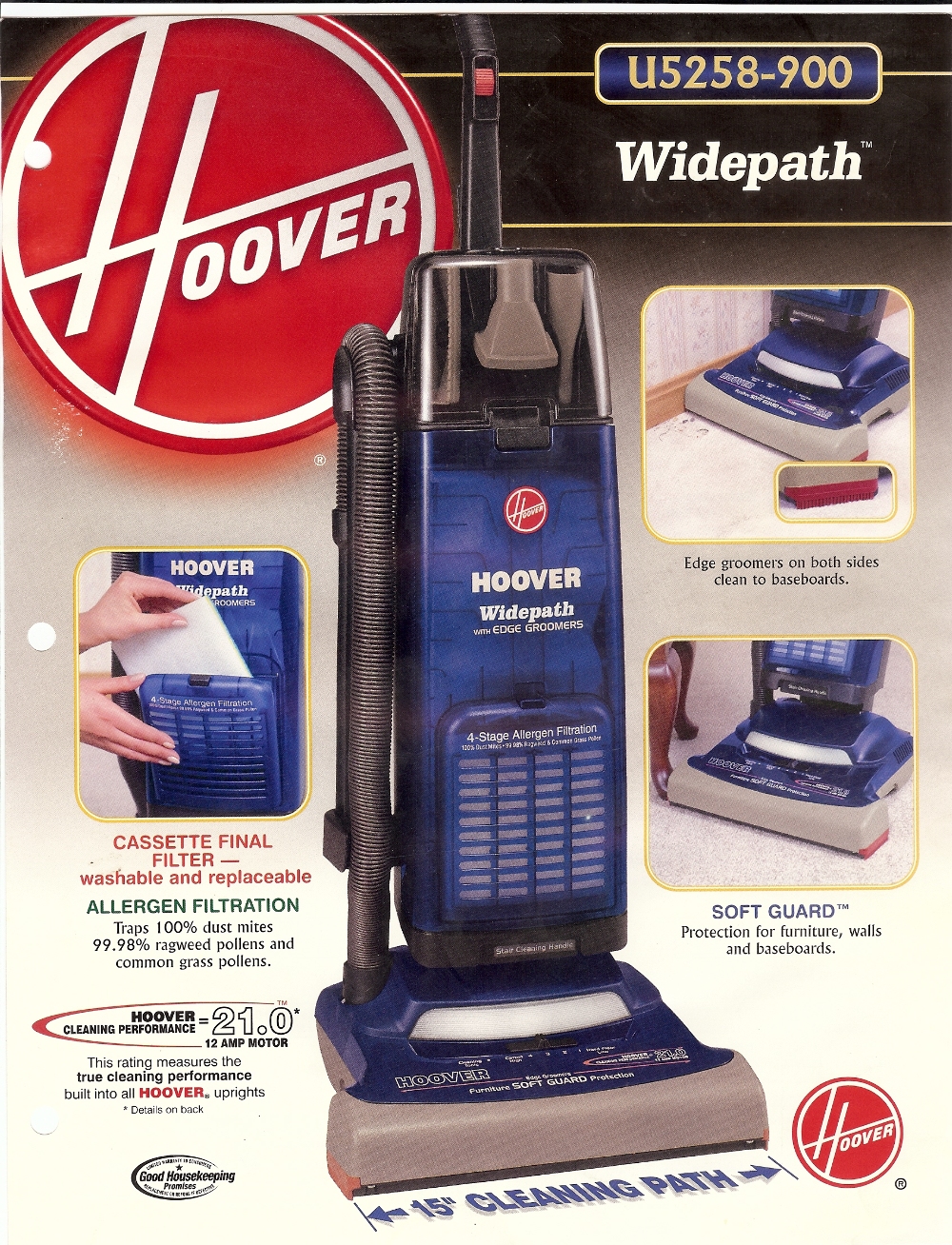 This post was last edited 11/10/2013 at 02:20