I got the thing home and started exploring it. There are a few problems... both head lights are burned out, the plastic that front wheels screw into is broken, the belt has a hole in it, and it smells to high heavens of dog... Only missing the upholstery tool and lower cord hook.
I haven't gotten to play with it yet because of the bad belt and smelly bag, but I did fix the broken plastic screw holder with plastic epoxy. Someone had already done it on the other side because I see JB Weld there.... Must be a weak spot/design flaw... this thing has obviously had a hard life, but that's all over with now :o) Hopefully it isn't scarred too badly from the abuse from the past and will become a contributing member of the vacuum family. Spa treatment to ensue.
This is how I found it with the cord wrapped around the handle. The cat had to come see what it was as soon as I brought it in the house.
The back... Only missing the upholstery tool. So glad that the handle release pedal works.
Here's the problem... The screw holder was broken. I wonder how common this was on these. I used plastic epoxy and that usually fixes this...
I had to use it on my Windsor Sensor 12 when I got it too as it had the same problem. Maybe it's just high end vacuums that do this!
You can see the plastic stuck the the screw... that is not supposed to be separate from the vacuum!
The other side that someone has obviously fixed with JB Weld...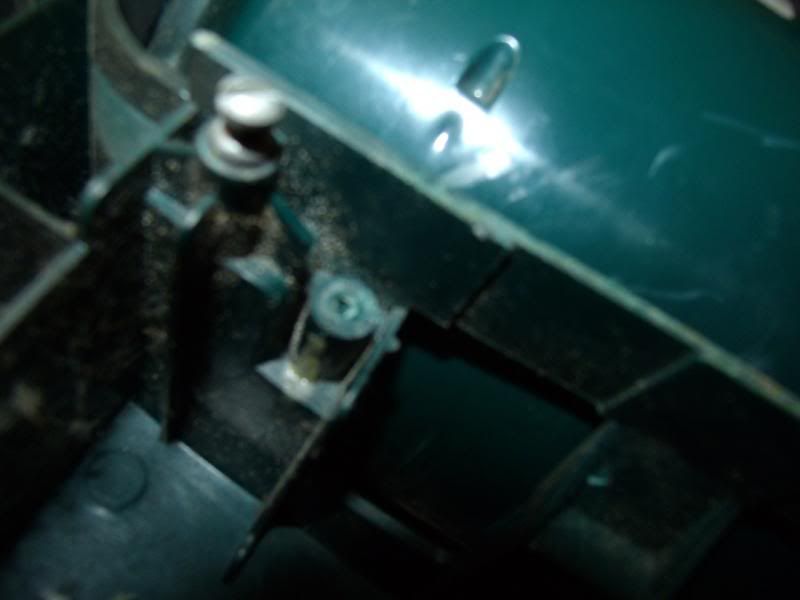 The brushroll. It spins freely, and while I wouldn't exactly call it clean, I've seen worse.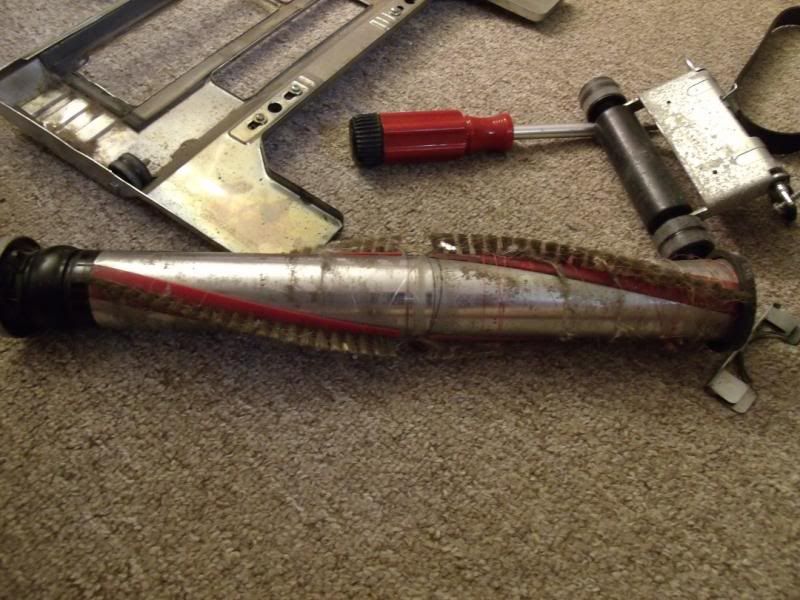 The replaced plug. I'm going to have to play with this. The cord isn't inserted far enough in and there is a gap between the cord end
and the plug where insulation is coming out. It says "spring action" on it, so I'm not sure how comes off... but I like it better than the
kind I've seen before that screw together because it has a cord clip on it.
So, still getting to know this baby and lots of clean up ahead of me, but it should be a fun process. No experience with Simplicity/Riccar,
so this is all new to me. I like that the metal bottom plate doesn't require a screw driver and that you can control the suction with the
knob on the back, much like a Dial A Matic (the whole machine is similar to a Dial-a-matic)...
Anyway, Tom, how do we got about this process of me getting the parts and paying you and all that fun stuff? Thanks again for offering
that to me (I knew there was a reason I missed you LOL... there were several really). I need bags, belts, the other filters (pre
and post motor) since these smell like a dog, and an upholstery tool. I may be able to find the light bulbs at Lowes. Can you tell
from the picture if the brushroll is in good enough shape to not need to be replaced yet? It seemed to extend past the bottom plate and
spun freely, so I'm thinking that a clean up might be all it needs, but you would know better than me since you are around these things all
day every day.
Thanks again... I wouldn't have gotten this thing if I hadn't been encouraged to do so by you guys, and I'm sure I will be glad I did once I
get this nasty part over with :o)