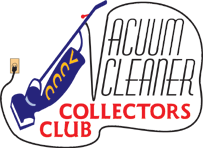 To contact the webmaster of Vacuum Cleaner Collectors Club please send an email to: webmaster@vacuumland.org

OR CLICK HERE: email us at vacuumland.org


Website Cyber-Museum and Cyber-Library Copyright Disclaimer: The vintage print and film products available free to the public from our libraries are solely for educational purposes only. These library articles in no way will be used for any profit making ventures what so ever by our club. Also please note that these products may not be used by any individual outside of the copyright owner for any profit making venture. While all these materials are owned and copyrighted by their original producers, most have fallen into the public domain due to the fact that they were produced before 1964 and its related copyright has not been reregistered or never had an official copyright statement in the first place. All logos and trademarks in this site are property of their respective owner(s). If an owner of a vintage copyrighted print article, photo, video or audio segment is not comfortable with our library making the item available to the public, please notify the webmaster by email (at: webmaster@vacuumland.org) and your material will be removed from the web site immediately and the electronic files will be destroyed.